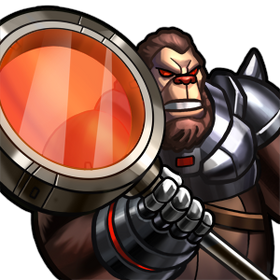 Amporilla is a Red unit. It's a strong attacker basing its power on number of Tarsiers already on the field.
Panel
[
]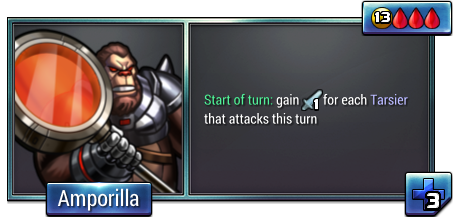 Strategy
[
]
With a sufficient Tarsier count, Amporillas can be easily the most efficient attackers in the game. Amporillas exhibit "quadratic" growth whereas your damage output is equal to (the number of Amporillas you have + 1 * the number of Tarsiers you have.
Amporillas are the only Red unit with

3, but since their usefulness depends on Tarsier support, solid defense is necessary to maintain their damage. It is usually useful to get a Blastforge for Walls when Amporillas are the end goal of a build order.
It is best to buy an Amporilla once one has at least 3 or 4 Tarsiers, as fewer than that is insufficient for the Amporilla to reach full value/effectiveness and you would be better off building more tarsiers. Even after a single pair though, it's not much worse than 2 Steelsplitters, while also giving "econ" by increasing the value of Tarsiers. Compared to 2x Fast Tarsiers (10

), it's 3

for about 3

net value gained per Tarsier.
Amporillas are an incredibly strong counter to slow, high-defense strategies such as Zemora Voidbringer or Defense Grid builds. Building early or multiple Blastforges is therefore often fatal in an Amporilla set, barring strong blue offensive units. If your opponent fails to pressure you, you can easily start to amass four or more damage a turn, quickly overwhelming any defense your opponent could possibly build up. To counter Amporillas, a player must pressure his opponent so as to stop him from actually building an Amporilla, or else breach him soon after the first Amporilla is bought.
Combos
[
]
Units that allow you to get
comfortably are extremely useful with Amporilla, such as Chrono Filter and to a lesser extent Flame Animus. Centrifuge is also excellent as it allows you to buy an Amporilla without a second Animus when the red from the second Animus would probably just be wasted anyway.
Red defenders such as Corpus and Husk are also of great help; Amporilla strategies generally have no problem getting enough damage to overcome the opponent, instead, where they struggle is in defending themselves long enough for the opponent to crumble first. Since they also tend to waste a lot of red in the late game, Husk and Blood Pact are especially useful for its low gold cost. Nitrocybe and Ossified Drone pull double duty as they both sink excess red and provide defense. Blood Pact has particular synergy with Amporilla as it is mainly strong when the short term is what matters, and with Amporilla you will be willing to pay almost any long-term cost to get enough defense at a cheap up-front price so that you can keep buying those double-value Tarsiers.
Ferritin Sac is amazing as it allows you to buy a Wall or other large absorber without committing to an entire Blastforge.
Preemptive defenders such as Infusion Grid and especially Perforator help with Amporilla. The reason is that on the turn you buy your Amporilla, you likely won't be able to buy anything else, so having an efficient way to cover that turn's defend ahead of time can help tremendously.
Ebb Turbine is of immense help for Amporilla players. The reason is that when Tarsiers are double-value, you are more than willing to sacrifice Drones to get more of them. The click ability is already good most of the time in the mid-to-late game, with Amporilla, it's even better. Auride Core, while a very low-impact unit in general, is also useful because the 2

that you get from it is like 4

if it gets spent on something that is twice as good as it normally is.
If there are large absorbers available such as Centurion, the Amporilla player will be able to build enough economy safely that it will be almost impossible to stop them from buying an Amporilla and plenty of Tarsiers to go with it. Xaetron is especially useful for being a green absorber instead of a blue one; Forcefields are an excellent defender with Amporilla for their low up-front cost (just like Blood Pact), more so than Wall as you are probably overteched even without the Blastforge.
Counters
[
]
One of the best ways to counter Amporilla is to rush super hard so that they have to buy defence early on and won't be able to afford a second Animus and all. Units like Feral Warden and Grimbotch allow you to put out a lot of pressure quickly and force your opponent to play defensively. However, this is unlikely to work in sets with strong defenders such as Infusion Grid as these will simply absorb your rush while the opponent safely builds a large economy and then counterattacks.
Burst damage is extremely helpful. If there is a unit like Grenade Mech or Cluster Bolt, you may be able to let the Amporilla player buy their second Animus but then suddenly pressure them so much that they have to buy defense and waste all their
. Even if they do manage to get an Amporilla, units like these can let you force a breach since they likely don't have the tech for good defenders and kill their super-vulnerable Tarsiers.
Amporilla is also weaker in sets that have other strong attackers such as Hellhound or Scorchilla, since you are basically locked out of buying any other attackers besides Tarsiers if you want your Amporilla to get full value. (Hellhound still supports for Tech and defense skip purposes. Scorchilla could be outrushed)
Openings
[
]
Base Openings
[
]
One of the ways to buy Amporilla is to rush super hard.
Player 1 may use vs a passive opponent.
DD
DD
DDA
TTD
TTA
Amporilla
Doomed Drone improves Turn 4. Mobile Animus is efficient for 3 Red.

Player 2 aggressive line vs passive opponent:
DD
DA
TTD
TTD
RA
Amporilla
May play base line instead if Player 1 pressures. Mobile Animus improves Turn 5 greatly, allows either D, E, or next turn Click.

Player 2 slow build:
DD
DD (Float 4)
AA (Float 3)
TTT (Float 2, waste R)
Amporilla
Gains 6 efficient Attack at the cost of over 4 accrued loss then, and 11RRRR tech, which loses a 6 cost Animus.

Player 2 alternate slow build:
DD
DD (Float 4)
DDA (Float 3)
TTA (Float 2)
Amporilla (2R left)
Gets 2 more economy but 2 less Attack.

Player 1 Anti Apollo:
DD
DD
DDA
TTD
TTDD
TTA
TTTT
Amporilla
Amporilla
Makes an Amporilla good value for the one turn it gets to Attack. Since the User got to keep buying Amporilla, it is forced to defend with E and Drone holds if without Red defense, such as Blood Pact.

Player 2 in High Econ (Centurion only)
DD
DDE
DDDE
DDDD
DDDAA
TTTTDD
TTTTDD
Amporilla +TCB
Amporilla +TWE
Player 1 has to start from high Econ, which leaves Player 2 free to run a full Attack, or Defend normally if enemy rushes first, likely winning as well. Stall enemy as needed.
A faster version gets 8, then 24 Attack if it's faced with little Attack.
DD
DDE
DDD
DDAA
TTTT
Amporilla +D
TTTT
Amporilla +T
With Support
[
]
Player 1 Mobile Animus
DD
DD
DDA
TTD
TT +Mobile Animus
Amporilla (2 left, may click the Mobile Animus)

Player 2 slower Mobile Animus
DD
DD +Mobile Animus
TDD
TAD
TTT (3 left)
Amporilla (4 left)
Emergency version vs Player 1 priority
DD
DD +Mobile Animus
TA
TTD (Float 1R)
Amporilla
Rather inefficient, but delaying it will result in a sharp loss.

Player 2 early Mobile Animus
D +Mobile Animus
TD
TDD
TDD
RAE
Amporilla

Player 2 Chrono Filter
DD
DD
DA +Chrono Filter
TTT (Waste B)
TRDE
Amporilla (B left)
Player 2 natural Chrono Filter
DD
DD +Chrono Filter
ST
DDA
TTT (Float 1, waste B)
TTDD (Float or buy E if attacked)
Amporilla (2 left)

Player 1 Flame Animus (1).
DD
DB
D1
DD1
TD1
TTW
Amporilla
Efficient resource-spending line.

Player 2 Flame Animus (1).
DD
DA
TTD
RB
TD1
TDW
Amporilla
Pressures first, but it's inefficient.

Player 1 Perforator (1).
DD
DD
DDA
DD11
TTA
Amporilla
Defensive but fast line.

Player 2 Ossified Drone (1) rush.
DD
DA
TTD
TDE1
RA click 1
Amporilla
Opponent won't avoid it without pressure.
Player 1 Ossified Drone (1) rush.
DD
A
TD1
TD click 1 (Float 3, Drone pays too slow)
TA click 1
Amporilla
This early rush has strong defense.

Player 2 Doomed Drone (1). It also defends enough to forego Wall absorb/soak for some time.
DE1
DDD
A111
TT111
TTA11 (Hold back the first 1)
Amporilla +T (Hold 1s to avoid losses)
This leaves up to 19

to get for next turn. Doomed Drones out of

lifespan are for

block though.

Player 2 fast Mobile Animus rush with Doomed Drone (1).
DE1
DDD or D11
Mobile Animus +A1
TTT
Amporilla (May click Mobile Animus)
This combo gives a perfect combination of Defense and Attack.
Player 2 early rush version:
Mobile Animus +D
T11
T11
TA11
Amporilla
Pressures much earlier while having some Econ.
Player 1 Early Rush line.
E11
D11
A111
TT111
Mobile Animus +TTD
Amporilla
Starts with high Defense and Econ. Can soak 7 Attack easily. Requires a tech sink.
Player 2 counter defense.
DE1
DE11
Mobile Animus +1111
TA111
TTTDD
Amporilla
Exploit the cheap defense.

Player 2 Galvani Drone (1) rush:
EE11
EA11
TTE1
TTE1
TTA
Amporilla
Defensive vs Tia Thurnax. Requires red defense.

Player 1 Thorium Dynamo (1)
DD
D1
DD
AA
TTT
Amporilla +T or R
Player 2 Thorium Dynamo (1) and Wild Drone (0)
01
00
A00
TT00
TTDA
Amporilla +T
Player 2 turn 1 econ boon.

Player 1 Vivid Drone rush (1)
EE1
11
DDDD
AA
TTT1
Amporilla
Amporilla +1
This combination is very strong, as the extra Engineers act as soak that the opponent can't pressure through.
Player 2 Vivid Drone (1)
EE1
DD1
DDDD
AA1 (BA11, TTW11 if rushed)
TTTT
Amporilla +T (or E and Drone block if needed)
Does not waste resources, but Player 1 gets to go first, and has reason to. This build cannot be defeated by most Player 1 rushes, barring something like Tia Thurnax to break through. A standard turn 4 Rush would delay the second Animus, but a Blastforge and efficient Econ instead secure the setting needed to deploy.

Player 1 defensive Vivid Drone (1)
EE1
11
DDDD
DDDD
CAA1
TTTT1 (E instead of 1 for Absorb)
Amporilla +TFF
Defends against Player 2 rush line.

Player 1 Vivid Drone (1) with Doomed Drone (0).
EE1
D01
A01
TT00
TTA
Amporilla (1 left)
This combination of Econ suport runs an Attack with excellent Defense.

Player 2 Auric Impulse (1)
DD
A1
TT11
TTA1
Amporilla
Can be done if the Opponent does not prepare tech for Attack on turn 3. It can be delayed for the next turn against mediocre Attack.
DD
A1
TTD1
TT11 (Lose E)
RAEE1
Amporilla (Breached by 4 Attack)
The line is outruled by enemy red, as defending even RR pressure would require skipping EE for 1, to hold 5 Drones to block for 7 next turn. This means having 8 Attack, 5 Econ, 1 gold, and a Rhino left against enemy's sufficient Attack. Blood Pact and Ossified Drone make this a non issue.

Player 2 Infusion Grid (1)
DD
DA
TDD
TTB
TDW
AE1
Amporilla
Gains both Absorb and Attack efficiently.
Player 1 Ferritin Sac (1) and Infusion Grid (2)
DD
A
DD11
TTD
TW2
DA1
Amporilla
TTT
Adds a double Blue defense with decent Attack.

Player 2 Ferritin Sac (1) early rush.
A
TD1
TT
DW1
A (Float 3RR)
Amporilla
Pressures early while having a Wall. Mobile Animus and Auric Impulse improve this greatly. Requires a constant sink for Red.

Player 1 Thorium Dynamo (1) and Mahar Rectifier (2) line.
DD
D1
DD
DCA
TRDDE click 1
R2
TTAE
Amporilla
For facing a not too aggressive opponent.

Player 1 Ossified Drone (1) and Vivid Drone (0) rush.
DD
A0
T01
TDD click 1
TA0 click 1
Amporilla click 1
The starting Ossified Drone fabricates preemptive defense.

Player 2 Ossified Drone (1) and Doomed Drone (0) rush.
A
T01
T00 click 1
A0 click 1
Amporilla click 1
Defensive rush which is value and priority based.

Player 1 Wild Drone (1) and Doomed Drone (0) rush.
E01
000
A000
TT011
TTA
Amporilla (6 soak)
Very defensive rush, soaks 7 attack.

Player 1 counter with Centurion for Player 2 turn 2 Animus rush. This blocks and pressures the Amporilla back. May go second if there are

blue sinks, it should gain advantage either way.
DD
DDE
DDD
DDDB
WDDC
SDDA
Centurion
TT...
Slow Builds
[
]
Lines that start with only 2 Tarsiers can be somewhat efficient, require that opponent is unable to just rush normally.
Player 1 slow build with Mobile Animus (1):
DD
DD
DA
TT1
Amporilla
TT +click 1
Economy-like build, any extra Tarsiers mean Econ value. Any cheap Drones can improve this.

Player 2 slow build with Mobile Animus (1):
DD
DD1
TDD
TDA
Amporilla +click 1
TTB
Much more effective, and prevents Player 1's natural line.

Player 2 slow build with Thorium Dynamo (1):
DD
D1
A (Float 3)
TTA (Float 1G)
Amporilla (Float GGR)
TTTD click 1
This leaves 13 Econ, which is insufficient for getting Value for long.
Change Log
[
]