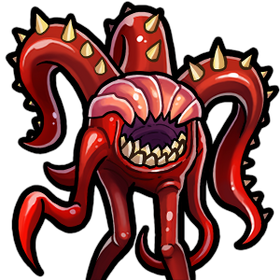 Panel
[
]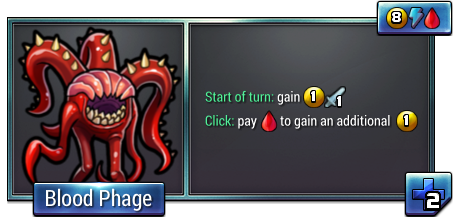 Strategy
[
]
Blood Phage is a fairly efficient way to get both

income and constant

, often more so than buying pairs of Drone+Tarsier. However the true strength of the unit is not in raw efficiency, but in the click ability.
The click ability is very versatile and can add significant value, being a strong way to spend
in the midgame when it may be difficult to continue spending all your
on attacking units, and a strong way to use the extra
when buying expensive odd-red units like Centurion or Shadowfang. Since Animus provides
for 6

, buying Animus to power the click ability is as efficient as Drones.
Blood Phage is a major enabler of rushes in what would otherwise be high-economy sets. The reason is that two of the biggest drawbacks of going low-economy in a set with big absorbers or powerful expensive attackers are that you often lock yourself out of buying the bigger, more efficient attackers, or end up wasting tech when you are forced to add two Blastforges for the Energy Matrix. Blood Phage mitigates both drawbacks: it provides tech sink through it's click ability and allows you to keep increasing your economy even as you buy attack.
It's not unreasonable to buy 1 or 2 Animus in a Blood Phage set just to buy and power the Blood Phages, if it fits well into your build.
Openings
[
]
Buildtime 1 (Outdated)
[
]
Player 1 often wants to play the following build in Blood Phage sets:
DD
DD
DDA
T + Blood Phage
Blood Phage + T, or click Phage and buy Phage + B, or click Phage and buy RDB if need defense
Due to the efficiency of this build, player 2 is often motivated to go faster:
DD
DA
D + Blood Phage (floating a red, but it's worth it)
TTD if opponent buys Wall, T + Blood Phage if opponent neither buys Wall nor counterattacks, click Phage and buy RDB if being attacked
This early attack is especially good in a Blood Phage mirror match, because player 1 will be facing

already on the turn they want to buy Tarsier + Blood Phage. And if they go Rhino to absorb it, then they can't afford their Phage and will likely end up wasting red when they do decide to make time for it.
Opening lines
[
]
Player 1
DD
DD
DDA
x2 Blood Phage
x2 Blood Phage
Note that starting this efficient line leaves a bad position to get Blastforge without wasting red, reducing the actual efficiency.
Player 2
DD
DA
Blood Phage +T
Blood Phage +T
This line mostly deals with tech excess/switch.

Player 1 Turn 2 Rush
DD
A
Blood Phage +T
TT
TR or BR
Allows efficient Attack and Tech switch.

Player 1 Immolite (1) rush.
A
Blood Phage (Waste R)
11
RD
Puts early pressure, not very inefficient or commital.
Change Log
[
]
January 11th, 2019
February 17th, 2016
August 8th, 2015