Blue resource (also known as Behemium) is a metallic resource needed to purchase some units. It is also needed to power some abilities.
Blue units are mechanized, armored, or structural units. In general, blue units are better defenders than red and green units, because they have high health and are not fragile. They often also have the option to either defend or attack, allowing for flexible strategies.
Any blue resource not spent is lost at the end of a turn.
Blue resource generating units
[
]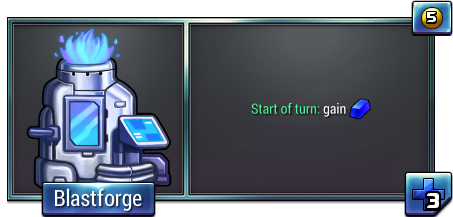 Part of the basic set, the Blastforge is the most common unit that generates blue resource. It generates one at the start of every turn.
Other units
[
]
Units with a blue resource cost
[
]
Unit table
[
]
| Name | Type | U/S | | | | | | # | | | | | | | | | | | |
| --- | --- | --- | --- | --- | --- | --- | --- | --- | --- | --- | --- | --- | --- | --- | --- | --- | --- | --- | --- |
| Name | | | | | | | | | | | | | | | | | | | |
| Auride Core | | Unit | 1 | | | 1 | | 4 | 1 | 1 | | | | | | | | | |
| Pixie | | Unit | 1 | | | 1 | | 20 | 1 | 1 | | | | | 1 | | | | |
| Thermite Core | | Unit | 1 | | | 1 | | 4 | 1 | 1 | | | | | | | | | 8 |
| Antima Comet | | Unit | 3 | | 1 | 1 | 1 | 1 | 2 | 1 | | | | | | | | | |
| Manticore | | Unit | 3 | | | 2 | | 4 | 1 | 4 | | | | | 2 | | | | |
| Oxide Mixer | | Unit | 3 | | | 1 | | 4 | 1 | 2 | | | | | | | | | 4 |
| Deadeye Operative | | Unit | 5 | | | 2 | | 4 | 1 | 2 | | | | | | 3 | | | |
| Doomsplitter | | Unit | 5 | | | 1 | | 10 | 1 | 3 | | | | | 1 | | | | 5 |
| Flame Animus | | Unit | 5 | | | 1 | | 4 | 2 | 2 | | | | | 1 | | | | |
| Hellhound | | Unit | 5 | | | 1 | 1 | 10 | 1 | 1 | | | | | 1 | | | | |
| Infusion Grid | | Unit | 5 | | | 1 | | 10 | 1 | 4 | | | | | | | | | |
| Shredder | | Unit | 5 | | | 1 | | 10 | 1 | 4 | | | | | 1 | | | | |
| Urban Sentry | | Unit | 5 | | 1 | 1 | | 10 | 1 | 3 | | | | | 1 | | | | |
| Wall | | Unit | 5 | | | 1 | | 10 | 0 | 3 | | | | | | | | | |
| Xeno Guardian | | Unit | 5 | | 1 | 2 | | 10 | 1 | 4 | | | | | 1 | | | | |
| Borehole Patroller | | Unit | 6 | | 1 | 1 | | 10 | 1 | 2 | | | | | 1 | | | | |
| Ebb Turbine | | Unit | 6 | 1 | | 1 | | 10 | 1 | 4 | | | | | | | | | |
| Lancetooth | | Unit | 6 | | | 1 | | 10 | 2 | 4 | | | | | 2 | | | | |
| Militia | | Unit | 6 | | | 1 | | 10 | 1 | 4 | | | | | 1 | | | | |
| Steelsplitter | | Unit | 6 | | | 1 | | 10 | 1 | 3 | | | | | 1 | | | | |
| Synthesizer | | Unit | 6 | | | 1 | | 4 | 1 | 4 | | | | | | | | | |
| Arka Sodara | | Unit | 7 | | | 2 | 1 | 1 | 0 | 7 | | | | | 4 | | | | |
| Doomed Wall | | Unit | 7 | | | 1 | | 10 | 0 | 4 | | | | | | | | | 3 |
| Iceblade Golem | | Unit | 7 | | | 1 | 1 | 10 | 1 | 6 | | | | | 1 | | | | |
| A. R. Groans | | Unit | 8 | | 1 | 1 | 2 | 1 | 1 | 8 | | | | | | | | | |
| Arms Race | | Unit | 8 | | 1 | 1 | 1 | 4 | 0 | 1 | | | | | | | | | |
| Bombarder | | Unit | 8 | | | 2 | 1 | 10 | 1 | 4 | | | | | 3 | 2 | | | |
| Chieftain | | Unit | 8 | | 2 | 1 | | 10 | 1 | 7 | | | | | 2 | | | | 3 |
| Energy Matrix | | Unit | 8 | | | 2 | | 4 | 0 | 5 | | | | | | | | | |
| Doomed Mech | | Unit | 9 | | | 2 | | 10 | 1 | 5 | | | | | 2 | | | | 5 |
| The Wincer | | Unit | 9 | | 1 | 2 | 1 | 1 | 3 | 5 | | | | | 15 | | | 3 | |
| Polywall | | Unit | 10 | | | 1 | | 10 | 0 | 6 | | | | | | | | | |
| Redeemer | | Unit | 10 | | 1 | 1 | | 4 | 1 | 4 | | | | | 3 | | | | |
| Cauterizer | | Unit | 11 | | | 1 | 2 | 4 | 1 | 3 | | | | | 2 | | | | |
| Tesla Coil | | Unit | 11 | | 2 | 1 | | 4 | 1 | 3 | | | | | 3 | | | | |
| Drake | | Unit | 12 | | | 2 | | 4 | 1 | 4 | | | | | 4 | | | | |
| Plasmafier | | Unit | 12 | | 3 | 1 | | 4 | 1 | 4 | | | | | 4 | | | | |
| Valkyrion | | Unit | 12 | | 2 | 1 | 1 | 4 | 1 | 4 | | | | | 4 | | | | |
| Apollo | | Unit | 13 | | | 3 | | 1 | 2 | 4 | | | | | | | | | |
| Vai Mauronax | | Unit | 13 | | | 1 | 4 | 1 | 1 | 6 | | | | | 3 | | | | |
| Colossus | | Unit | 15 | | 1 | 2 | 2 | 4 | 1 | 8 | | | | | 3 | | | | |
| Omega Splitter | | Unit | 15 | | | 3 | | 4 | 1 | 6 | | | | | 3 | | | | |
| Thunderhead | | Unit | 15 | | 5 | 1 | | 1 | 1 | 11 | | | | | 4 | | | | 3 |
| Defense Grid | | Unit | 16 | | | 3 | | 1 | 1 | 7 | | | | | | | | | 7 |
| Centurion | | Unit | 18 | | 2 | 2 | 1 | 1 | 0 | 6 | | | | | 2 | | | | |
| Odin | | Unit | 20 | | | 3 | | 1 | 1 | 3 | | | | | 4 | | | | |
Unit panels
[
]