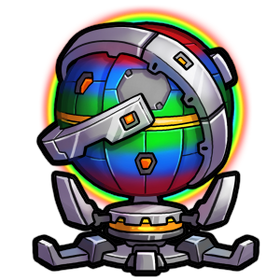 Centrifuge is a Colorless unit which provides a burst of all



resources. It is part of Antares.
Panel
[
]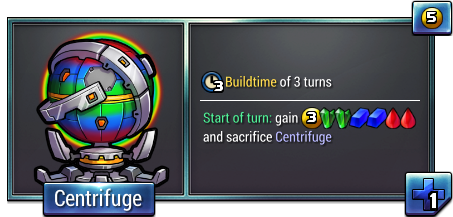 Strategy
[
]
Centrifuge provides you with a huge burst of resources (including all 3 colored ones)

3 turns after you buy it (giving back

gold). As it gives you for a single turn access to technologies that would otherwise require a heavy investment in tech buildings, it is most useful when it lets you buy legendary units like Odin or Lucina Spinos; the main point of the unit is to use the

blue and
red immediately as they are discarded otherwise.
Keep in mind however that Centrifuge's

cost will often go to build it in the early game. This will put you one turn behind an opponent forgoing Centrifuge. The payoff has to be impressive to compensate for the disadvantage.
As such, if the random set doesn't have relevant legendary units, going for Centrifuge is generally a bad play, as you would have been better off simply econing up into an economy letting you produce constantly the

attackers and

blockers you need. You can still consider it to get a one-off of an absorber such as Energy Matrix, but it's not a strong enough play to mandate cutting your economy early for it. On the same note, if the legendary you plan to get is a defensive one (Centurion, Defense Grid), it is best to plan your Centrifuge to make use of their high absorb as soon as they come into play. Going Centrifuge doesn't change the fact that you should go for offense over defense when you can.
Build Order
[
]
The following build orders refer to the old centrifuge (pre April 2018).
For player 1:
D
Centrifuge
For player 2:
DD
Centrifuge
Those builds let you rush out Centrifuge in the early game for a quick legendary. You generally want to follow them by some Drones and the tech buildings (Blastforge, Animus) required for your target unit.
For player 1:
DD
DD
D+Centrifuge
For player 2:
DD
DD
DD+Centrifuge
Those builds are one turn slower on the Centrifuge, but leave you with four more drones. This is a slightly more balanced line, though it means no tech buildings until turn 4, which can be a problem against an aggressive opponent.
Openings
[
]
Player 1
DD
DD (D +Centrifuge)
DD +Centrifuge
Player 2
DD
D + Centrifuge (+E for high econ)
Change Log
[
]
April 6th, 2018
December 9th, 2015