Jurassic World: Dominion Dominates Fandom Wikis - The Loop
Play Sound

Energy is a resource needed to purchase some units. It is also needed to power some abilities.
Currently, all units which cost energy produce resources - primarily the different types of drones. Therefore, units which use energy to power their abilities have an influence on a player's ability to increase their economy.
Any energy not spent is lost at the end of a turn.
Energy generating units
[
]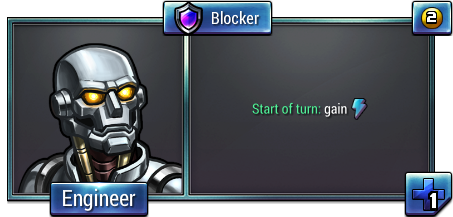 Part of the basic set, the Engineer is the only base set unit that generates

energy. It generates 1

at the start of every turn. No other unit, with the exception of Ebb Turbine, generates

Energy.
Units with an energy cost
[
]
Unit table
[
]
| Name | Type | U/S | | | | | | # | | | | | | | | | | | |
| --- | --- | --- | --- | --- | --- | --- | --- | --- | --- | --- | --- | --- | --- | --- | --- | --- | --- | --- | --- |
| Name | | | | | | | | | | | | | | | | | | | |
| Galvani Drone | Colorless | Unit | 1 | 1 | | | | 10 | 1 | 1 | | | | | | | | | |
| Doomed Drone | Colorless | Unit | 2 | 1 | | | | 10 | 1 | 1 | | | | | | | | | 4 |
| Trinity Drone | | Unit | 2 | 1 | 1 | | | 10 | 1 | 5 | | | | | | | | | |
| Vivid Drone | Colorless | Unit | 2 | 2 | | | | 10 | 1 | 1 | | | | | | | | | |
| Auric Impulse | Colorless | Unit | 3 | 1 | | | | 20 | 1 | 1 | | | | | | | | | |
| Drone | Colorless | Unit | 3 | 1 | | | | 20 | 1 | 1 | | | | | | | | | |
| Gilded Drone | Colorless | Unit | 4 | 3 | | | | 4 | 1 | 1 | | | | | | | | | |
| Mega Drone | Colorless | Unit | 5 | 3 | | | | 1 | 1 | 4 | | | | | | | | | |
| Thorium Dynamo | Colorless | Unit | 5 | 1 | | | | 4 | 2 | 8 | | | | | | | | | |
| Wild Drone | Colorless | Unit | 5 | 2 | | | | 4 | 1 | 3 | | | | | | | | | |
| Ebb Turbine | | Unit | 6 | 1 | | 1 | | 10 | 1 | 4 | | | | | | | | | |
| Blood Phage | | Unit | 8 | 1 | | | 1 | 4 | 1 | 2 | | | | | 1 | | | | |
| Immaculon | Colorless | Unit | 25 | 5 | | | | 1 | 1 | 1 | | | | | | | 2 | | |
Unit panels
[
]
Units with an energy Ability
[
]
Unit table
[
]
| Name | Type | U/S | | | | | | # | | | | | | | | | | | |
| --- | --- | --- | --- | --- | --- | --- | --- | --- | --- | --- | --- | --- | --- | --- | --- | --- | --- | --- | --- |
| Name | | | | | | | | | | | | | | | | | | | |
| Electrovore | | Unit | 4 | | | | 1 | 10 | 1 | 2 | | | | | 1 | | | | |
| Fission Turret | | Unit | 4 | | 1 | | | 10 | 1 | 1 | | | | | 1 | | | | 5 |
| Cauterizer | | Unit | 11 | | | 1 | 2 | 4 | 1 | 3 | | | | | 2 | | | | |
Unit panels
[
]