Jurassic World: Dominion Dominates Fandom Wikis - The Loop
Play Sound
Red resource (also known as Replicase) is a biological resource needed to purchase some units. It is also needed to power some abilities.
Red units are living or organic units. Although most of these units appear as animals with robotic enhancements, Mike Fong made it clear in his video on the story of Prismata that these are not modified animals but rather artificially grown computer controlled muscles and tissues.
Any red resource not spent is lost at the end of a turn.
Red resource generating units
[
]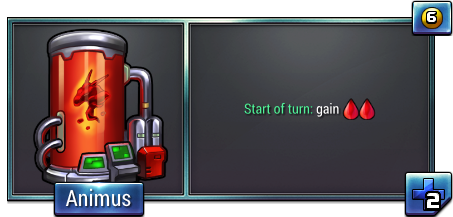 Part of the basic set, the animus is the most common unit that generates red resource. It generates two at the start of every turn.
Other units
[
]
Units with a red resource cost
[
]
Unit table
[
]
| Name | Type | U/S | | | | | | # | | | | | | | | | | | |
| --- | --- | --- | --- | --- | --- | --- | --- | --- | --- | --- | --- | --- | --- | --- | --- | --- | --- | --- | --- |
| Name | | | | | | | | | | | | | | | | | | | |
| Fire Spinner | | Unit | | | | | 20 | 1 | 1 | 1 | | | | | 40 | | | | |
| Ferritin Sac | | Unit | 1 | | | | 1 | 10 | 2 | 1 | | | | | | | | | |
| Nitrocybe | | Unit | 1 | | | | 1 | 20 | 2 | 1 | | | | | 1 | | | | |
| Frostbite | | Unit | 2 | | | | 1 | 20 | 2 | 1 | | | | | | | | | |
| Husk | | Unit | 2 | | | | 1 | 20 | 0 | 1 | | | | | | | | | |
| Ossified Drone | | Unit | 2 | | | | 1 | 1 | 1 | 2 | | | | | | | | | |
| Antima Comet | | Unit | 3 | | 1 | 1 | 1 | 1 | 2 | 1 | | | | | | | | | |
| Blood Pact | | Unit | 3 | | | | 1 | 10 | 0 | 1 | | | | | | | | | |
| Immolite | | Unit | 3 | | | | 1 | 20 | 1 | 1 | | | | | 1 | | | 2 | |
| Perforator | | Unit | 3 | | | | 1 | 10 | 1 | 2 | | | | | 1 | | | | |
| Photonic Fibroid | | Unit | 3 | | 1 | | 1 | 10 | 0 | 2 | | | | | 2 | | | | |
| Scorchilla | | Unit | 3 | | 1 | | 1 | 10 | 3 | 3 | | | | | 3 | | | 3 | |
| Electrovore | | Unit | 4 | | | | 1 | 10 | 1 | 2 | | | | | 1 | | | | |
| Grimbotch | | Unit | 4 | | | | 1 | 10 | 1 | 2 | | | | | 1 | | | | 4 |
| Tarsier | | Unit | 4 | | | | 1 | 10 | 2 | 1 | | | | | 1 | | | | |
| Endotherm Kit | | Unit | 5 | | 3 | | 1 | 1 | 0 | 1 | | | | | | | | | |
| Feral Warden | | Unit | 5 | | 1 | | 1 | 10 | 0 | 3 | | | | | 1 | | | | |
| Frost Brooder | | Unit | 5 | | | | 2 | 4 | 1 | 2 | | | | | | | | | 6 |
| Hellhound | | Unit | 5 | | | 1 | 1 | 10 | 1 | 1 | | | | | 1 | | | | |
| Rhino | | Unit | 5 | | | | 1 | 10 | 0 | 2 | | | | | 1 | 2 | | | |
| Shiver Yeti | | Unit | 5 | | | | 1 | 10 | 0 | 2 | | | | | | | | | |
| Tyranno Smorcus | | Unit | 5 | | | | 2 | 4 | 1 | 2 | | | | | 2 | | | | |
| Corpus | | Unit | 6 | | | | 2 | 4 | 0 | 2 | | | | | | 2 | | | |
| Sentinel | | Unit | 6 | | 1 | | 1 | 10 | 1 | 3 | | | | | 1 | 3 | | | |
| Arka Sodara | | Unit | 7 | | | 2 | 1 | 1 | 0 | 7 | | | | | 4 | | | | |
| Bloodrager | | Unit | 7 | | | | 1 | 10 | 1 | 2 | | | | | 2 | | | | |
| Iceblade Golem | | Unit | 7 | | | 1 | 1 | 10 | 1 | 6 | | | | | 1 | | | | |
| Protoplasm | | Unit | 7 | | 2 | | 2 | 10 | 0 | 4 | | | | | 4 | | | | |
| A. R. Groans | | Unit | 8 | | 1 | 1 | 2 | 1 | 1 | 8 | | | | | | | | | |
| Arms Race | | Unit | 8 | | 1 | 1 | 1 | 4 | 0 | 1 | | | | | | | | | |
| Blood Phage | | Unit | 8 | 1 | | | 1 | 4 | 1 | 2 | | | | | 1 | | | | |
| Bombarder | | Unit | 8 | | | 2 | 1 | 10 | 1 | 4 | | | | | 3 | 2 | | | |
| Gaussite Symbiote | | Unit | 8 | | | | 2 | 4 | 1 | 2 | | | | | 1 | | | | |
| Shadowfang | | Unit | 8 | | | | 3 | 10 | 1 | 1 | | | | | 2 | | | | |
| The Wincer | | Unit | 9 | | 1 | 2 | 1 | 1 | 3 | 5 | | | | | 15 | | | 3 | |
| Cauterizer | | Unit | 11 | | | 1 | 2 | 4 | 1 | 3 | | | | | 2 | | | | |
| Valkyrion | | Unit | 12 | | 2 | 1 | 1 | 4 | 1 | 4 | | | | | 4 | | | | |
| Amporilla | | Unit | 13 | | | | 3 | 4 | 1 | 3 | | | | | | | | | |
| Vai Mauronax | | Unit | 13 | | | 1 | 4 | 1 | 1 | 6 | | | | | 3 | | | | |
| Colossus | | Unit | 15 | | 1 | 2 | 2 | 4 | 1 | 8 | | | | | 3 | | | | |
| Centurion | | Unit | 18 | | 2 | 2 | 1 | 1 | 0 | 6 | | | | | 2 | | | | |
Unit panels
[
]