Panel
[
]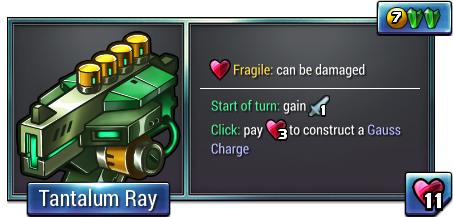 Strategy
[
]
Tantalum Ray is a reasonably efficient permanent attacker with a convenient cost and no hard counters, making it a solid choice of key unit in a large number of sets. Although it isn't as efficient as most other random set attackers (Essentially 5


for an attacker, 2


for a

3 Tarsier), many of those units have some sort of drawback, like an awkward tech cost (Shadowfang), being dangerous to mass produce (Tesla Coil), being extremely big and clunky (Asteri Cannon), etc. Tantalum Ray has none of these issues, though it has costs for Pressure which is less efficient for early attack.
One of Tantalum Ray's biggest advantages over red attackers is that it costs green, which, unlike red, can be easily spent on defense late in the game via Forcefields or, if they are available, Plexo Cells. Thus, even if a red attacker is stronger in a vacuum than Tantalum Ray, Tantalum might still be the better choice of strategy.
If Tantalum Ray is clicked as much as possible, it will be left at

2, which can help against a large pile of Frostbites by allowing you to safely gambit for more than you could if you had

1 attackers like Tarsiers or Hellhounds. In the context of a breachproof strategy, Tantalum Ray can participate effectively by clicking one less time, leaving it at

5 like a Gauss Cannon.
Openings
[
]
Player 2 Thorium Dynamo (1) and Wild Drone (0)
01
00
C1
Tantalum Ray +0
Tantalum Ray x2

Player 1 Gauss Fabricator
DD
CC
DD
Gauss Fabricator
Tantalum Ray +D
Tantalum Ray +EE
Change log
[
]
April 6th, 2018
September 18th, 2015
June 30th, 2015